Wednesday, October 28, 2009
This was a cute game I made up. I cut out big pumpkins and little pumpkins and laminated them. I also had one big bag and one small bag. First, the kids started by the door and I would say "On your mark get set, Go"! I gave each child a pumpkin and then they had to put the correct size pumpkin in the correct size bag.
Then I used a dry erase marker and put upper case H on the big pumpkins and a lower case h on the small pumpkins and we did the same thing.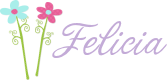 Posted by

Felicia Schindler
at 9:06 PM
1 comments