Wednesday, January 28, 2009
It was a disaster yesterday when we attempted nap without the paci's.  Needless to say there was no nap and no paci's.  So weird he had a great day even without his nap.  So bedtime was at 8:30pm and I read him a few books and asked him what he wanted for breakfast and he said "Pancakes" and I left the room crossing my fingers.  No sound until 7:30am when I woke him up.  Wow, life without paci's are doing better than expected.  He hasn't even asked for them, I guess he knows what I will say (the garbage truck took them).  
Caden is in his room right now hopefully trying to fall asleep.  Today I put some toys (flashcards and books) in bed with him.  I keep looking on the monitor and he is still busy reading so I hope he finds his new way of putting himself to sleep.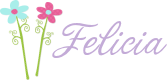 Posted by

Felicia Schindler
at 1:56 PM
0 comments